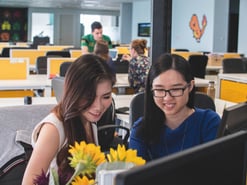 Employee training: as a small business, you know it's essential, and you know that workers want it. But often while running the company, you run out of time to teach and coach employees. If this describes your situation, using an online training system can help you reach your goals. Here's what you need to know to find the right system.

What do you need?
As you review options for an online training system, you'll quickly notice that there are several choices. Some offer extensive features to use to design training modules. Others provide a system design that is easy to understand and put to work.
The systems with a range of features are impressive. But don't get caught up in the idea that
you'll use this software to create mind-blowing training modules. Companies who focus on the features say they end mostly using the same basic options. Others choose a software that helps them produce great training modules, using easy-to-understand design choices. (Read this blog to learn how buying a software system is like buying a new washing machine.)
As you review the options, think through what you really need. It may be helpful to make a list of pros and cons of each option you consider. This analysis will help you know what you will use. Here are some other software designs questions to ask.
Does the software support different content?

When designing content for training modules, choose formats that communicate the critical points of the topic. Sometimes the message can be shared with graphs, words, and pictures. Other times a short video, created internally with the help of a few employees, or an existing YouTube video. Or maybe it's best to use a few stories to emphasize the key points.
What's most important is to choose a software system that you will use.
Can you create training modules that fit your business brand?
One of the reasons small business like online training software is to provide consistent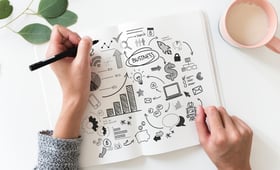 teaching for employees about the company brand, mission, and products. So it's essential that the training materials represent your company. Make sure the software you pick allows you to customize the font, colors and style to fit your brand. Learn more about how to use your training modules to help employees become brand ambassadors.
Do you need to track employee learning?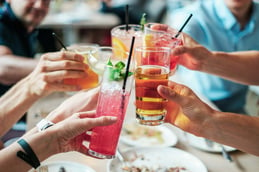 When setting up employee training modules, you probably want to know how it makes a difference for your business. You may wonder whether employees gaining new knowledge and skills? Are they using them to make a difference in customer communications and completion of team projects? With the right online training software, it's simple to track competition of employee training modules. And you can design quizzes to check workers' understanding of the material. It's also an easy way to collect records to meet compliance regulations.
Finally, don't forget to recognize employees' accomplishments in completing training modules and making a difference for your business.