My faithful washing machine recently died.
After years of cleaning clothes for my family, the washing machine suddenly stopped. R.I.P.
It was an older model, but it did the job of getting our clothes clean while I did other things. Other than a few swipes with a cloth to remove excess fabric softener or soap, the machine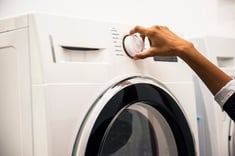 required little attention.
After a few comments about the untimeliness of its demise, I set out to find a replacement washer. I stopped at a big box store and found washing machine nirvana. My eyes glazed over as I contemplated the design choices and all the special options. I'm sure the sales associate could see my deer-in-the-headlights gaze and was quick to point out all the bells and whistles. I was persuaded that I just had to have the latest and greatest machine. When the washer was delivered, I was excited about the prospects of doing an A+ job washing our clothes.
But then reality set in. Like most people, I juggle a ton of work responsibilities and family commitments. I didn't have time to read the owner's manual to figure out how to take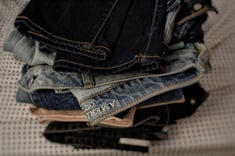 advantage of all the choices. At the end of a busy day, I was just relieved to put dirty clothes into the washer, turn the knob to "normal wash" and push the start button. But soon I discovered a problem. Due to the machines' design I had to drain water left in the drum and wipe it dry after each wash, and leave the door open, otherwise a musty smell developed and stunk up the clothes. I spent so much time trying to make the machine do the job that I didn't get other important things done.
I persuaded the store to return my newfangled-machine. Instead of replacing it with something similar, made by a different manufacturer, I turned to the aisle displaying the simple top-load washing machines. I looked for the styles featuring a few basic functions and found a one that was easy to use and would meet my family's needs. I couldn't be happier.
The analogy
As I've reflected on my frustrations with my washing machine, I realized that many small businesses have similar experiences when purchasing online training software for employees.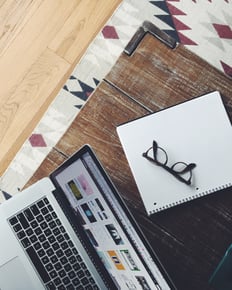 After convincing themselves of the benefits of having an online system to coach and teach employees, they start shopping around. They quickly realize that there are many types of software systems. And as they read about the special features of the different options, they get excited to think of the possibilities of providing the latest and greatest training for employees.
But guess what? Most small businesses that buy the "latest and greatest" software systems often use only the basic functions. They don't have time to understand the options and quickly realize that they don't need them. The basic functions provide the features they need to create amazing employee training modules. Software programs loaded with features often are used by companies with dedicated training teams
The right online training software system should be easy to use, with tutorials that are simple to understand, and customer service support that answers any questions and resolves problems. Once training modules are set up, they can be modified at any time. Review tips on designing an effective training plan.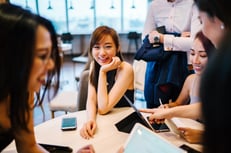 Employees prefer online training because they can watch modules at any time, on any digital device. Business owners are relieved to know that employees in any location can learn the knowledge and skills important to serving customers and growing the business.
Find out what to look for when shopping for online training software systems, by reading this blog. I'd also encourage you to click on the button below to take Traineaze for a test drive.
If you need help sorting through the options, call or send me an email. I'm here to help! Check out customer reviews, and you'll see that I want to help simplify the employee training process.