Small businesses want the best, most talented employees they can hire. But, the competition for young professionals is fierce, Many Millennials want jobs that fit their life and professional goals. Most businesses think they need to offer large salaries or cash incentives to get the right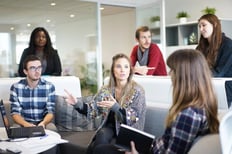 employees. Research shows that cash no longer is king. The secret to finding and keeping is great workers is to offer the training and development opportunities they want. Consider three ways online training can help retain Millennials.
1. Understand their expectations
– Over 35 percent of the American workforce is comprised of about 56 million Millennials. Born between 1980 and 1996, Millennials desire many of the same things as the generations before them: good jobs with competitive pay.


But, this generation also wants to be engaged in their work. Millennials look for jobs that will help them reach personal and professional goals. And, they want their work to support business and community needs.
A Gallup study revealed that 87 percent of Millennials rated professional or career growth and development opportunities as important in a job. When applying for a new position, 59 percent of Millennials said opportunities to learn and grow were most important.
Millennials want to work for employers that provide continuously new learning experiences and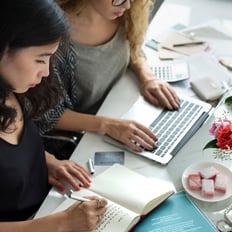 leadership growth opportunities. They see each position as a stepping stone to help them reach their goals. The length of time they stay with a job depends on their learning experiences and work relationships. Overall, they want to be committed to their work, just like older generations.
2. Meaningful training and development – The Gallup study also found that only 33 percent of the Millennials said the training they received at work was well worth their time. And less than 50 percent strongly agreed that they had opportunities to learn and grow in the past year.
Millennials aren't interested in the one-size-fits-all learning experience. They don't want to attend large-group conferences or work with a business coach.
Since Millennials were born, they've lived in a digital world and use the internet for just about everything. Another recent study showed that younger workers spend several hours each week watching instructional videos online to enhance their knowledge and skills.
Millennials are used to living in a fast-paced world where they get instant gratification. That's why they want personalized online learning experiences where they can enhance their knowledge and develop new skills.
So, how can a small business provide this type of training? By using an online training software system, such as Traineaze, business owners, and other employees tasked with training responsibilities, can create employee training designed for specific needs and interests. Make a list of the knowledge employees need and want to acquire, as well as gaps in their training, and start working on creating training modules.
3. Authentic and accessible training – Small businesses that invest in employee training, show employees that they're valued. But, the training needs to be authentic. Millennials aren't looking for polished training with professional images. They want to enjoy the training experiences. When creating a training video, speak and act natural. Ask other managers and employees to help develop modules on specific topics.
With the right online training software system, it's easy for small businesses to create quickly fun and interesting training modules using PowerPoint, videos, YouTube, audio and photos.
According to Inc., training must be agile and accessible, so Millennials can fit it into their active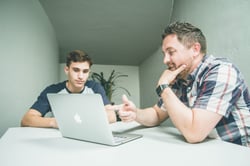 lives. That's why Millennial employees prefer online training because they can do it anytime, anywhere and on any digital device. Make each module brief, less than 5 minutes long. Organize the content by topic so employees can easily go back and review training material to reinforce key points or to retrain themselves on product facts and operations. This especially is helpful for sales team members who occasionally have customers interested in specific product features. This type of training helps employees feel confident and more satisfied with their work. Read this blog to learn more about microlearning.